Went to celebrate Shuting's birthday on Friday. 090606...at Marina Square Kenny Rogers.
Some Photos to share over here...
-Shuting and Daniel Goh-
-Sharmen and Me-
-Group Photo-
-Haha...narcisstic...-
-Princess Search? eHHH... -
-Me and Ferry-
-Haha...the prince and the princess!-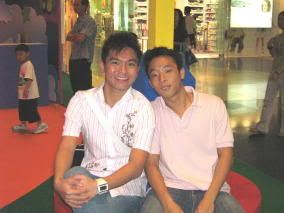 -Daniel Goh and Myself-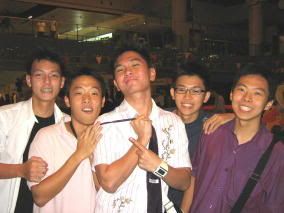 -SHarmen, Daniel Goh, Me, Chinran, Ferry-
-Me, Shuting,Daniel, Suhui, Mindy...act cute sia... =Þ-
-Chinran and Me-
After that, we went to suhui house to watch world cup opening match. Germany VS Costa Rica.
Hmm, 4 - 2 .. had a few sip of red wine at her house, her uncle force us to drink lah.
At night, was talking to shuting,chinran and ferry our amkss days...and also nonetheless, ghost stories. Come to think of it... it has been quite a while we left amkss. Time really flies, 4 years already. The last world cup , I were having my O levels. Though our JC life was interesting, but our secondary school life was even more exciting. Many events took place, such as our millenium carnival in secondary 2, float competition for National Day in sec 1, Assembly Drama Performance in sec 4, etc etc...really bond all of us together. Up till today, we are still meeting up, and much more shocking news are still happening around us.
I guess I will be living in darkness without these guys around. The song sang by Singapore Idol wannabe , Jonathan... IF YOU'RE GONE... really reflects my feelings to all these important friends who grown up together with me through the years.
After that, suhui send most of us home, err...but shuting and daniel goh had to take their own transport as the car has limited no. of seats. Lol... thanks to suhui who send me all the way home.
I must say, friends are truly my assets in my life, and thanks to all of them!