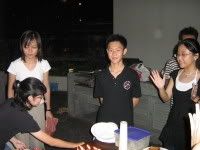 Zhixiang finally turned 20 on the 24/06/06, attended his bbq session at his house. Saw some familiar AJC faces, and nonetheless, 1503 buddies, kah hui, tien soon, danny, wanping, lena, kelvin chew. Unfortunately, wenchuan was on duty.
Took a tour around zhixiang's new house, wow, the view from his house was fantastic! And there were artistic paintings on his walls too. Anyway, my JC class tutor is staying in the same block as zhixiang, so does daniel ang too. Still waiting for daniel's house warming leh, hehe.
Here's Zhixiang's bday video...

He's trying very hard to blow the candles. Haha.


Anyway, there should be more photos la, but fuck . My camera low batt, hmm..shall wait for kahhui and wanping to send me more pics.