Last sat and sun was totally burnt, due to AHM'06 preparations. Was at Toa Payoh Safra giving out goodie bags to the public. They called it the 'RACE EXPO" .
Actually, I enjoy keeping myself busy and occupied most of the time. Though my task was actually much more tiring than most of the others, but it sort of makes me feel the importance of myself(haha!). I was termed as the "counter assistant" . The person at the counter will tell me what tag no. and shirt size , and we will go to the back, and search for the tag no. There are different tags, namely, C1234, WN123, WV123, N1234 ,V1234, WC123. They mean closed, women's open, women's veteran, open, veteran, women closed category respectively.
There are around 5 person manning each tag station, so when we went to shout out the number, 5 person will search together, in order to give us the tag in the shortest time. Shirts are flying around, cos there are different people manning different sizes, you just have to shout out the sizes, and they will throw it to you. Many times, the t-shirt just smack my face lah. We were expected to get everything done as fast as possible. CPT TOH actually timed one of the counter, and they actually took around 3 min plus to get the things done. Of course he wasn't very happy lah. My partner actually expect me to get it done within 10 secs...siao lor. It was tiring lah, imagine 1st day I served 302 customers, and 2nd day around 250 plus. So have to run around, and shout it out loud...

Some photos taken ...



The backstage...where we have to get our Tag Nos...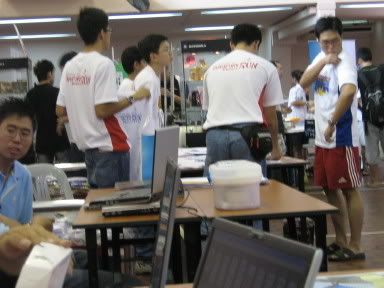 People trying on their AHM shirt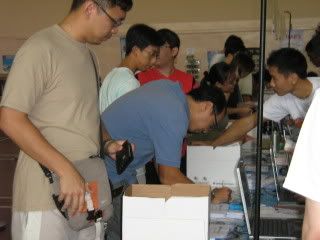 At the counter. Total of 12 counters set up.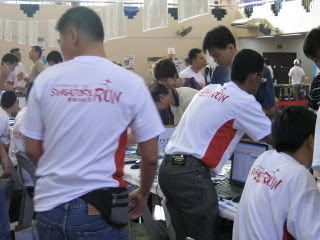 Working in process...my backview.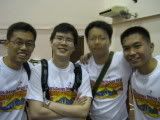 Me and the few disruptees who came back from university.
Dekai,Jervon,Zhiqun,Me.


Haiz, this coming sunday will be the real thing. Will be doing bag deposits. Hopefully everything goes on smoothly ! All the best for ARMY HALF MARATHON 2006!