Really thanks to everyone who make my Big day a success, those who sms me and those who celebrated my birthday, you rocks!
It all started out on Saturday afternoon, 230906, 2pm. Went to meet Zhixiang and Jeremy for jamming session. Thanks for the book that you all had given me.
After that, met Daniel Ang, Shuyi, Kenneth and Weiliang at Grand Hyatt Hotel. Must really thank all of them, for paying so much. The buffet there was great! Weiliang had so much to talk about his army life, and I had so much to talk about my superstar experience, shuyi had some personal experience, we chatted like we didn't meet for ages! They never fail to brighten up my life and always trigger my humor genes . We are gonna be buddies for life, it has already been 7 years. Weiliang said something that was very true : We had witnessed the growing up journey of each of us.
Shuyi is venturing into the pastry industry, Weiliang had enter the army, and Kenneth is going to serve the nation soon. Daniel Ang had matured so much and I'm trying to thrive in the Music Industry. We were strangers, then to classmates for four years, and although we had graduated, but friendship still remains. We had witnessed the laughters and tears of our special moments.
Well, whatever it is, I am really proud to have such fantastic friends with me for the past 7 years!
At Grand Hyatt Hotel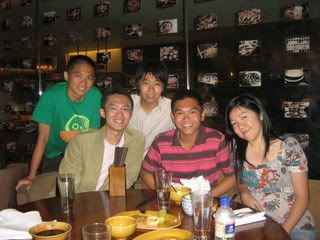 From Left, Weiliang, Daniel Ang, Kenneth,Me, SHuyi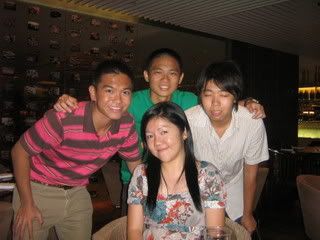 The Mahjong Kakis!
Clockwise, Me, Weiliang,Kenneth,Shuyi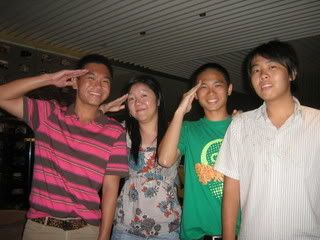 Yes Sir! We are serving the nation!
Shuyi..serving the nation with her heart, lol.
Kenneth? Trying to play punk rite!



After that we went to this "THE FISH ROOM" , something like a bar/cafe style , near my place.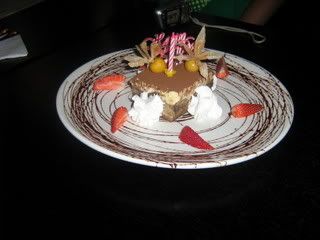 Tiramisu!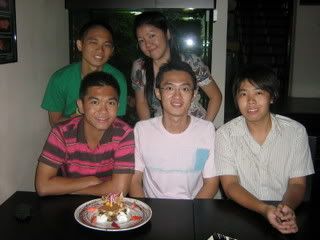 Its us again! Don't need intro again rite.



MaHJOng rocks! Hmm..weiliang's head very round like fishball sia

My bestest buddies celebrated my birthday at 12am in the fishroom. Was very nice of them to stay until so late together with me. And here comes the day...my 20th Birthday!

Next day, went to celebrate my birthday with Suhui,Shuting,Ferry,Sharmen,Chinran and Daniel Goh. Mindy got a project to do, so for the consecutive 2nd year..i'm unable to celebrate my birthday with Mindy. She's always busy with her school work. Had steamboat at suhui's house, and heard that our dearest Daniel Goh had helped to prepare the food as early as 8am. Haha. Thanks pals, I really appreciated all of your hardwork and sincerity! They are another group of my friends, who maintained the 7 years of bonding together too. With them around, we always had endless of laughters too. Shuting is forever that comical, and Daniel Goh is forever that innocent. Haha. Must thank Suhui for loaning her house for my birthday purpose.. haha. People got 7 terrance houses leh, loan one out..still got 6 left mah. HAHa. Chinran left around 10.30pm cause he need to book in by 11am. Nevertheless, we ate as if we are one big family, and thanks for all the hardwork!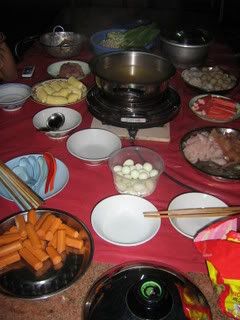 The food prepared by all of them!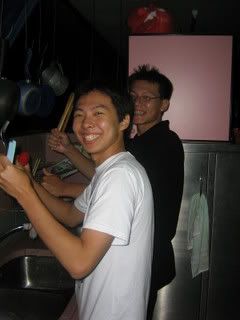 Ferry and Sharmen washing the plates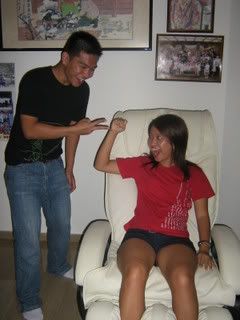 Haha..shuting and me, imitating the new massage chair advertisement.Familiar?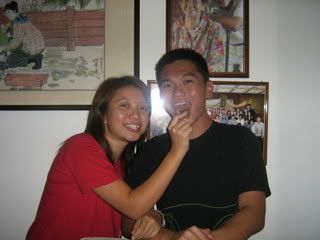 Please pardon our narcissitism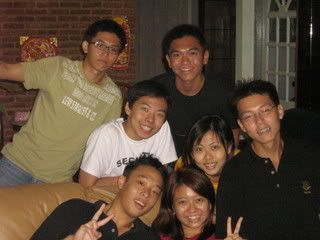 (Clockwise) Me, Sharmen,Suhui, Shuting,Daniel Goh,Ferry, Chinran

I really enjoyed myself alot ! Thanks to everyone... but poor ferry. Heard that he walked from Hougang to Tiong Bahru, and it took him like 3 hrs and 45 min. He said he wanted to save cabfare, then actually wanted to walk abit, but in the end, he quite high, so eventually finished the entire journey. Wah, I saluted his endurance and determination!

Life Rocks!