Ya, I blogged twice today. But really had too much to say, need to break up into 2 parts. Please follow the timeline closely. It was rushing with time yesterday! Bear in mind Suhui need to check in by 25.12.06, 05 00 hrs.
24.12.06- 15 00 hrs
Reached home. Rushing out the farewell video for Suhui. It will be titled Memories 2006 , which features the entire events that 8 of us went through, and well wishes to Suhui.
24.12.06- 22 00 hrs
Supposed to leave for Mindy's house. Video done. But hanged. Very panic, because I didn't save!!! Went to bathe, came back computer still hang. Forget it, restart, but feeling very very angry and sad. It took me 5 hours for the video!
Luckily, I could recover the file. Quickly save it and convert to disc.
24.12.06 - 23 50 hrs
Shit. File too big. Taking too much time to transfer to disc. Panic, cause suppose to reach mindy's house by 0000 hrs.
25.12.06 - 00 30 hrs.
Finally! Save and done. Checked SBS transit's buses and mrt schedule. Last bus 410 which will bring me to MRT, 00 30 hrs. Last train 13 45 hrs. Shit, never put gel, anyhow wear, just rush out of house.
25.12.06 - 01 42 hrs.
Phew, manage to get to Mindy's House at Sengkang by bus and MRTssS. Still need to walk a distance.
25.12.06 - 02 00 hrs.
Can't wait to show my video to them! 5 hours of hardwork!
25.12.06 - 02 10 hrs.
Video corrupted. Play halfway jammed. Sad, depressed. Daniel, Sharmen,Chinran, Mindy thinking of alternative solution.
25.12.06 - 03 15 hrs.
Mindy decided, and all agreed. Come to my house to burn the video again. Mindy drive all of us back to my home. On her way, picked up shuting at Ang Mo Kio KFC.
25.12.06 - 03 38 hrs.
I got down of the car first. Rushed out. Came up, log in and start up internet. The rest come up later as Mindy parking her car.
25.12.06 - 03 44 hrs.
Still unable to transfer. Send to Mindy's laptop through MSN, but no images and sounds. Final decision: Play the video, record video using my digicam . Everyone remain quiet.
25.12.06 - 04 05 hrs
Done! Everyone rush out! All rush down first, I need to shut down computer and log off. Grab on my camera cable and digicam. Mindy drive to my void deck, hop on to the car and ready to go! Transferring all the files to CDR-DISC using in her laptop while she is driving.
25.12.06 - 04 30 hrs
Yes! Saw Changi Airport sign! But, Mindy turn wrong lane! Went to Changi Naval Base instead. All panic. No U-turn. We just keep on driving. Shuting and Chinran busy looking at map. I keep on telling Mindy the signboard and directions. She can't see, properly.
25.12.06 - 04 44 hrs.
Still stuck in this long winding road. Drove pass SAF ferry terminal. Couldn't find a way out. Finally! Saw loyang. Mindy got her way, and speed up. Drive all the way to TPE. Suhui called, say she really have to check in. We asked her to wait!
25.12.06 - 04 55 hrs.
Saw Changi Airport tower. Finally. Speed up, and go all the way to car park A! Mindy park her car, and we RUN!!!!!!!!!!!!!!!!!!!!!!
25.12.06 - 04 59 hrs.
Couldn't find lane 12-16. Realised we are in arrival hall, not departure hall. 6 of us continue to run!
25.12.06 - 05 00 hrs.
Finally. SUHUI!!!!!!!!!!!!!!!!!!!!!!!!!!!!!!!!!!!!!!!!
Wow, that was close! Almost didnt catch her. But she check in immediately after that. Haiz, Suhui, see you in July'07!!!!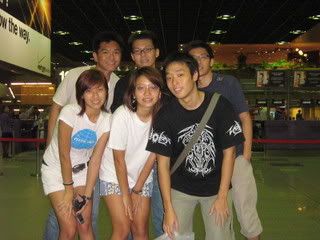 Tired and Shagged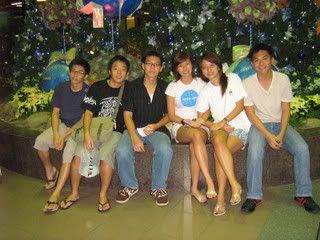 From left, Chinran,Daniel,Sharmen,Mindy,Shuting,Me.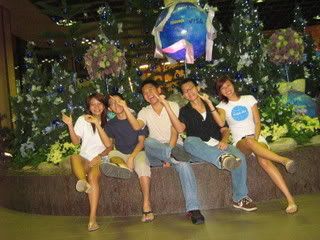 Comical! Daniel? Help us took pic!