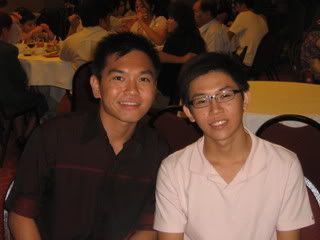 Me and Chinran
Xmas Eve went to celebrate ChinRan's Birthday at Cityhall, Rivercity Restaurant. Buffet dim sum! Wah, really ate alot like nobody's business. Also serves as a farewell treat to suhui, who is leaving for seattle on xmas, for 6 months exchange program!! As usual, endless laughters and joys.
The 7 of us! Ferry's in Indonesia, hope he's not affected by the floods and quakes.
Not only that, we exchanged christmas present , and I got sharmen's! Was a table calender with a PIG on it. -_-... haha.
We actually ordered so many dim sums , that the waiter had to stack the dim sums up. Shuting and myself saw this wedding cake on the stage, and we couldn't stop ourselves from taking photos with it!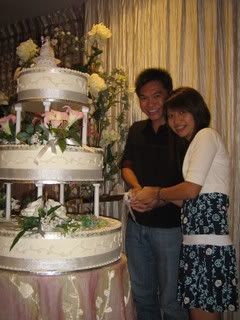 Shuting and Myself cutting the wedding cake! Haha

Was also trying to take down some well wishes from the rest, to be complied into a video for Suhui. Luckily she went to buy webcam , so we managed to took the video without her around. Anyway, I had created this 20 min plus video , but stupid youtube don't allow me to exceed 10mins. Has extracted the essence of this video...