My roomie has recently 'IMPORTED' fishtank to our room...haha. Invited many guests' curiosity.
But I warned my roomie , tiensoon : If you mess up the room, I will bring a cAt to eat up all your fishes!
Luckily, everything's still pretty fine so far.
Some of his fishes just died recently. Looking at my size... tiensoon seems to have a feeling that
I killed the fish
, in order to KIAP it into my daily 2 piece bread breadfast as
tuna
.
Haha, just joking.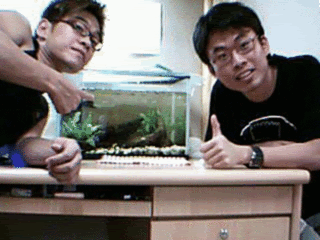 Busy taking photos...wah, this photo was taken using my videocam, we had a hard time just taking this 3 photos. lol
And some visitors...
Sophia and...my finger. Priscilla was blocked by my fat fingers.
I meant fat fingers, not fish fingers.
Aye, really getting hungry.